Understanding Sleeping Bags by Activity
A sleeping bag for camping is one that you wouldn't want to haul around in your pack for any appreciable distance. They're heavier, bulkier, and more geared towards comfort than sleeping bags made for backpacking. That being said, it's this focus on comfort that makes them fantastic for family car camping trips and other front country sojourns, and since they are less technical, they are also much less expensive.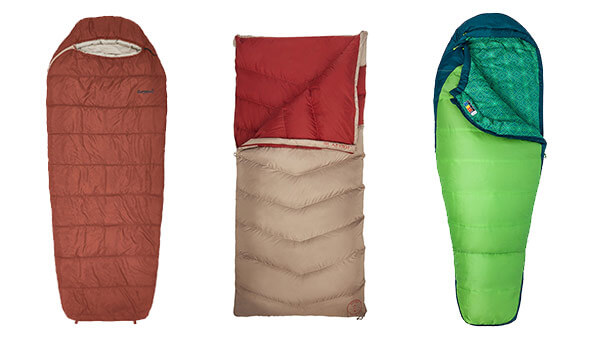 Backpacking Sleeping Bags
With backpacking sleeping bags, weight and compressibility should be your main considerations. Cramming a bulky sleeping bag into a stuff sack and having it takes up a ton of space in your pack is never ideal, and as part of the "Big 3" that determines your backpacking base weight (shelter, sleeping bag/pad, and pack), the lighter your bag is, the better.
The trick to picking out the right backpacking sleeping bag is balancing weight and compressibility with the correct level of warmth, so keeping an eye on temperature ratings is important.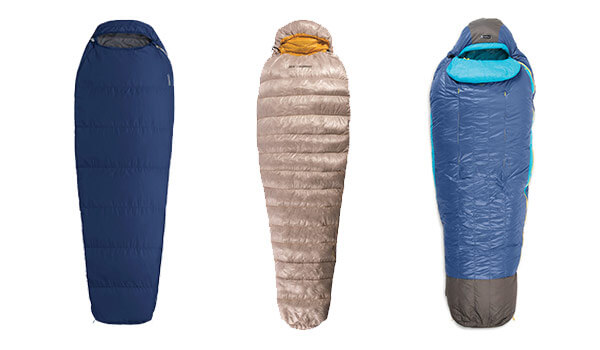 Alpine Climbing / Mountaineering Sleeping Bags
Choosing a sleeping bag for alpine climbing and mountaineering is a lot like choosing a sleeping bag for backpacking, but with an added focus on warmth and water resistance.
In order to remain as light as possible and still have enough insulation to keep you warm in alpine environments, these kinds of sleeping bags will use some of the highest quality insulation available, and that can make them expensive. Their shell materials will also often feature waterproof/breathable membranes and water repellent coatings to deal with increased moisture levels.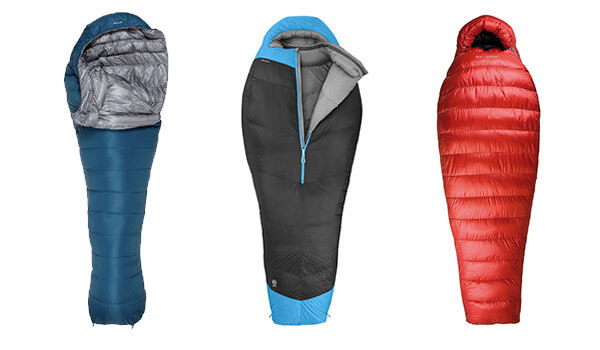 Understanding Sleeping Bag Temperature Ratings
Because you can always unzip a bag that feels too warm, you should pick a sleeping bag with a lower temperature rating than the lowest nighttime temperature you expect where you plan to camp. If you will use your bag into the colder months of the year, look at bags that can handle lower temperatures:
| | |
| --- | --- |
| Bag Type | Temperature Rating (°F) |
| Summer Season | +30° and higher |
| 3-Season | +15° to +30° |
| Winter | +15° and lower |
All this said, be aware that temperature ratings, which are based on an "average sleeper," mainly allow you to compare bags to one other. A wide range of other factors affect how you'll really feel once you're outdoors: your sleeping pad, what you wear sleeping, humidity and wind, your metabolism and more.
Sleeping Bag Fill Type – Down Versus Synthetic

Down insulation in sleeping bags is, on the whole, the superior choice. Down's warmth-to-weight ratio is better than any synthetic fill, it's highly compressible, and it keeps lofting even after stuffing your sleeping bag into a compression sack hundreds of times. If you want the lightest, most durable sleeping bag possible, you'll want a down one.
The great equalizer for synthetic insulation is its ability to keep you warm even after it's been soaked through with water—something that remains out of reach for down (though great strides have been made with water-resistant treatments for down). Synthetic insulation also dries out much faster than down can, and is much less expensive. This traditionally has made synthetic sleeping bags the best choice for trips that have a very high chance of becoming very moist—trekking in Patagonia, for instance, or alpine climbing in the PNW.
DOWN FILL POWER
Down fill power is a numerical rating system that represents how "lofty" the down in your sleeping bag is—the higher the fill power, the more air gets trapped by the down. A higher fill power down will keep you warmer with less filling, making for a lighter sleeping bag.
Is an 800-fill 30° bag warmer than a 600-fill 30° bag? No, they will provide the same level of warmth. It will just take more 600-fill down to do so, which means it will be heavier.
COMMON DOWN FILL POWER VALUES
550 – 600 fill: On the low end of the spectrum, this fill power makes for the most affordable down bags. Though it can be relatively heavy and less compressible, it's still lighter and more compressible than synthetic fills.
700 fill: Used in mid-range down sleeping bags, this fill power strikes a decent balance between cost and weight savings.
800+ fill: 800, 850, 900, 1000 fill power—these are the most expensive sleeping bags you can get, but their ultra lightweight and their ability to compress to very small sizes make them particularly prized by those who want the lowest pack weights possible. Winter bags with this grade of premium down can run upwards of $1000, just by virtue of the fact that they're stuffed with so much of it.
Sleeping Bag Construction
This is where 'Sleeping Bag Basics' ends, and 'Advanced Sleeping Bags' begins. The different shapes, fabrics and features of sleeping bags are what make choosing one so complicated, so read through this section carefully, and you should get enough information to make a relatively educated decision.
Different Sleeping Bag Shapes
In general, campers want bags that offer ample room to stretch out and roll over, which is why so many camping bags have a simple rectangular design. It's hard to predict if you feel a bag is roomy enough without zipping yourself inside a bag. So, it's a good idea to go to an REI store to "try on" different bags to see which bag styles feel most comfortable to you. Sleeping bags come in three basic shapes:
Rectangular: These bags allow plenty of room for both legs and arms to stretch out; some can be completely unzipped and used as a comforter.
Semirectangular: Semi-rectangular bags attempt to bridge the gap between mummy bags and rectangular bags, and are a good option for people who want to save some weight but don't want to feel entombed.
Mummy: In order to boost warmth and cut weight, this bag style has a snug fit—you roll over with your bag rather than inside of it.
Double bags: Bags made for two are the best bet for couples who plan to sleep together. Another option is to choose rectangular bags designed for zipping together—the bags need to be the same model and brand. A few bags also can be zipped together if one person chooses a right-hand zip and the other a left-hand zip.
Kid-size sleeping bags: These are simply shorter, smaller and more affordable variations of adult sleeping bags.
Quilts: Quilts are a (relatively) new development in backcountry sleep systems. They operate under the assumption that since all of the fillings in the bottom of a sleeping bag is being compressed underneath you when you lay on it, it might as well not even be there at all—and it isn't. Instead, you lay directly on your sleeping pad and draw the quilt around your body, with your legs and feet in the lower third of the quilt that is either totally enclosed or zipped together.
Women's-Specific Sleeping Bags: Women's-specific bags are constructed slightly differently than unisex sleeping bags, namely in that they are cut to be narrower in the shoulders, wider in the hips, and they come in a range of shorter lengths. They also come with added insulation.
Shell and Lining Fabrics of Sleeping Bag
Most sleeping bags are made with DWR-treated nylon ripstop shell and liner fabrics, which are lightweight, very comfortable, and allow for sleeping bags' fillings to loft especially well. The more expensive your sleeping bag is, the lighter and thinner this nylon fabric will be—and the specification you will want to look for to quantify this is a denier. The weight difference per square yard between a 10D and a 40D nylon fabric (the 'D' standing for denier) is significant, and ultralight sleeping bags are often so thin that you can see right through them to the down feathers inside.
Sleeping bags for recreational camping will sometimes use more "old-school" fabrics than nylon (like cotton and flannel), and this can be particularly nice in cooler temperatures. For camping in warm or humid weather, nylon will remain cooler and dry faster, though.
Waterproof/Breathable Members
These are mostly used only in sleeping bags that are specifically for alpine climbing and mountaineering; a waterproof/breathable membrane will help them remain dry in the face of the heavy, iced-over condensation that can occur in a buttoned-up mountaineering tent.
For most people, they're not really needed, as the DWR coating on the shell fabric is enough to deal with light condensation.
Zippers of Sleeping Bags
There's nothing worse than getting your sleeping bag's zipper snagged in that oh-so-delicate fabric, so do your best to find a sleeping bag that was made with one that attempts to be snag-free. The smaller and daintier the zipper, the more likely it is to snag, so look for larger, sturdier teeth, as they will zip and unzip more smoothly. Also, look for a stiff backing along the length of the zipper, as that will prevent the fabric from bunching.
Choosing left or right zip is pretty simple: If you're right-handed, get a sleeping bag with the zipper on the left. If you're left-handed, get one with the zipper on the right.
Think of it this way: If you're lying on your back, it will be much easier for your dominant hand to reach over your body to use the zipper, rather than the chicken-arm maneuver you'd have to do if the zipper was on the same side as your dominant hand.
Draft Tubes
If you're getting a sleeping bag that you'll use in cooler weather, look for one with a draft tube; it's a chamber filled with insulation running along the length of the zipper. The zipper is basically a sleeping-bag-length weak point for cold drafts without one. If you're getting a summer bag specifically, then don't worry too much about it.
Baffles
A sleeping bag's baffles are the chambers that contain the bag's insulation. With down bags, you'll see a lot of different configurations of these, but the two most common types are vertical and horizontal baffles. Synthetic bags' baffles are mostly just for show, so don't worry about them too much.
Vertical baffles are great for sleeping bags that have more dialed-in shapes, and their sculpted hoods and foot boxes are generally more comfortable than those from horizontally-baffled sleeping bags, particularly for people who sleep on their backs.
The drawback to sleeping bags with vertical baffles is that they need to mesh walls sewn along their length to prevent their down filling from migrating, so they are heavier than a horizontally-baffled sleeping bag of the same temperature rating and quality.
Sleeping bags with horizontal baffles are warmer by weight than vertically-baffled sleeping bags, though they can't be sculpted into ergonomic wonders like them. That's less of a problem if you sleep on your side, though.
If you want a truly versatile sleeping bag, look for one with continuous horizontal baffles. Continuous horizontal baffles wrap around the entire circumference of the sleeping bag, and that means that you can move your down insulation around as you see fit to dial in your warmth level. Too cold? Shake all the down out from the bottom of the bag so there's twice as much on top. Too warm? Shake it out from the top so all the down is beneath you.
Hoods
The colder the temperature is, the more important a hood for a sleeping bag becomes. A bag strictly for summer use won't necessarily need a hood, and there are plenty of sleeping bags that are made without them to save weight.
The most important thing to consider as far as hoods are concerned is how well one fits around your head. An ill-fitting hood will not only be uncomfortable when drawn tight but as you move around throughout the night you can get "lost" in the hood and start breathing water vapor into your sleeping bag, making it damp and even more uncomfortable. If you're able, heading to a gear shop to try out sleeping bags in-person is the most surefire way to know if the hood is the right fit for you.
Understanding The Size of Sleeping Bag
The length of the sleeping bag you need is based on your height. If your sleeping bag is too short, your feet and head will press against the ends of your bag, compressing the insulation there making it less effective. If your sleeping bag is too long, there will be too much dead space in it and it will take more energy (and longer) to heat it up.
Sleeping bag lengths are standardized across different brands, with men's and women's bags being either regular or long.
Men's Regular: 78 inches long (fits someone up to 6′)
Men's Long: 84 inches (fits someone up to 6'6″)
Women's Regular: 72 inches (fits someone up to 5'6″)
Women's Long: 78 inches long (fits someone up to 6′)