The outdoor tent is a shelter that shelters the wind and sunlight and provides temporary shelter. It can be made of canvas and can be removed at any time with support.
The tent is carried by means of components and assembled after arrival at the site, so various components and tools are needed.
Knowing the names and using methods of each part and the structure of the tent, we can set up the tent quickly and conveniently.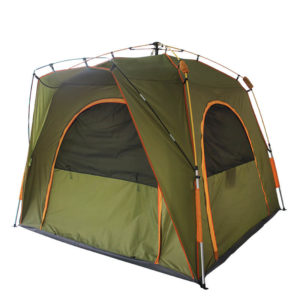 Tent Composition
(1) fabric
Waterproof fabric specification is based on waterproof degree.
Splashing water is only AC or PU. Generally just game accounts.
Waterproofing 300MM is generally used for beach accounts / shading accounts or cotton cloth for dry and rainy purposes.
Waterproof 800MM-1200MM for conventional simple camp tent.
Waterproof 1500MM-2000MM is used for comparison of mid-range tents, requiring many days of travel.
Waterproof 3000MM is usually a professional tent, which is treated by high temperature / cold resistant technology.
Bottom material: Generally speaking, PE is the most common quality. The quality is mainly related to its thickness and longitude and latitude density. It is better to use high-grade Oxford fabric and waterproofing treatment should be at least 1500MM.
The interior fabric is usually breathable nylon or breathable cotton cloth. Quality depends mainly on its density.
(2) supporting skeleton
Glass fiber tubes are commonly used. Materials are generally fiberglass, and the diameter is different.
Measuring its quality is more professional and important.
Folding bracket
The support for tent is in the following categories:
elastic steel: These are generally children's accounts or beach game accounts.
the most common is the glass fiber tube has a series of 6.9/7.9/8.5/9.5/11/12.5. The thicker the steel, the weaker the softness. Therefore, the fiber tube support selection is reasonable according to the size of the ground and height of the proportion of decision, too thick and too fine are easy to break.
For example, 210*210*130 is a classic ratio of 7.9 or 8.5.
Aluminum alloy skeleton: relatively high-grade, according to the alloy proportion inspection is also more difficult, generally its original bracket overall radian curve, are calculated first and then hot-pressing setting treatment. The characteristic is that it is easy to carry easily, but it is not easy to fold, but the quality is not good, so it is easy to bend and deform.